Programs & Services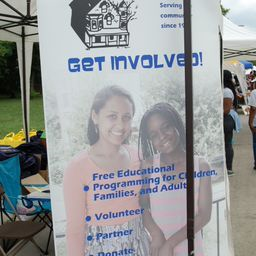 We offer range of programs and services to meet the needs of Reservoir Hill residents. We help by providing programs, information and resources to assist in their journey. We also help by raising awareness through public outreach and media. Here are a list of our current programming offered by the Center at no cost to residents. Please see our other web pages for more details on these specific programs.
-Year round youth development programs
-Job Readiness courses for youth and adults
-Personal Finance courses
-Green Machine: greening projects and community clean ups
-Reservoir Hill Resource Fair & Festival 
-Computer Lab mentoring and classes (STEM)
-Yoga
-Community Potlucks & Meetings
-Space for community meetings
-Space for partner programs: Narcotics Anonymous, CASA, Corpus Christi Grocery Program, FORH, and more.
Community Partners
We are thankful for our many community partners that are an integral part of our programs.  We are a 21st Century Maryland State Department of Education Community Learning Center Site.  We also work with the following organizations: Code in the Schools, University of Maryland Extension, Baltimore Museum of Art, Baltimore Museum of Industry, Walters Art Museum, twelve Baltimore City Title 1 schools, Child First Authority, Maryland Hunger Solutions, MICA, Morgan State University, Coppin State, Towson University, Johns Hopkins University, Maryland Public Television, Transdev Transportation, local artists, Whitelock Community Farm, Mount Royal CDC, Boy Scouts and Girls Scouts, Big Brothers Big Sisters, Kennedy Krieger, Whole Foods of Mt. Washington & Harbor East, Family League, Baltimore City Department of Health (Making a Difference Health Education), Beth Am, Corpus Christi, Volunteer Maryland, Holisitc Life Foundation, Disability Rights Maryland, Readers & Leaders Literacy Program, Kristi Cory (Yoga Instructor) Bmore Dogs, Friends of Reservoir Hill (FoRH),  RHIC (Reservoir Hill Improvement Council), Monarch Sisters, and more.