Summer of Service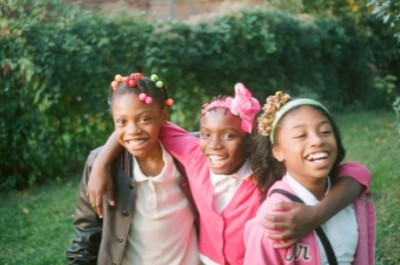 Ma'Qui, Shayla & Asia
St. Francis Neighborhood Center, in 2010, established a free summer youth development program called the Summer of Service Excursion. To view a news report about the program, please watch this video.
The Summer of Service Excursion is an eight-week intensive summer youth development program serving the community of Reservoir Hill.  The goals of the Summer of Service Excursion are to engage on average, 50 youth ages 5 to 15 in impactful and innovative service projects aimed at alleviating issues affecting Baltimore communities.  Specifically, youth explore issues related to youth in Baltimore, issues affecting Baltimore neighborhoods, and issues affecting Baltimore City as a whole. The end of the program culminates in service projects that are presented to parents, staff and volunteers. 
Summer of Service is free and held onsite at the Center during the summer months Monday through Thursday, 8:30 am to 5:30 pm with breakfast, lunch and snacks provided.
In 2015, according to pre- to post- academic assessments, 59% of children increased their scores; with an average increase of 13%. One student who was receiving customized tutoring in the program raised her math score 34%.
A post-program survey showed that  69% of our youth reported that they liked coming to the summer program; 66% stated they felt safe; and, 79% said they were learning in the program.  When asked the most important thing they learned from SOSE, youth said: "Being responsible, keeping the earth clean, healthy living, reading and writing  better, learning new words, how to make friends for life, not littering, about bullying, math," and more.
Overall, an average of 50 disadvantaged youth living below poverty in the neighborhood of Reservoir Hill were served over the course of the eight week program.

Here is an overview of this summer activities:  Group 1 (the youngest students) are visited by Ruby Woo, a beautiful pit, and her caretaker from BMore Dog. They will learn the importance of recycling and recycle bins. They will visit the local Whitelock Community Farm and learned about good nutrition and the importance of eating fresh fruits and vegetables. Healthy Living/Animals & Nature/Littering

Group 2 (ages 8 to 10) Work with our resident nutritionist, Virgilia Sanabria from the University of Maryland Extension Program. They learn about Earth Connections & Poverty. Code in the Schools teach coding, how to use a 3D printer, and Drone.

Group 3 (ages 11-15 & Youth Workers) The older group will participate in college readiness activities including education counseling, and Baltimore City Youth Workers will receive additional financial literacy training.  Code in the Schools also teaches this group. Their theme for the Summer will be Kids Helping Kids and Consumption & Waste.

Children will receive customized tutoring with dedicated tutors at St. Francis. Youth will participate in daily community meetings, be involved in six learning clubs, which included yoga, Nutrition Nuggets, Code in Schools, art projects with resident artist Randi McCormack, and photography. Guest speakers included Councilman Nick Mosby, Kevin Shird, Sadiq Ali of Millionaire Manners and Brian Kleeman from K. Partlett Racing. Youth, their families and mentors also attended an Orioles game and took field trips to Port Discovery, Genessee Valley, Wheelabrator LLC, the Humane Society and Safety City.  Youth will be served two meals a day through the Baltimore Housing Office of Community Services, Summer Food Service Program for children.
In 2014, our prodigies made a video emphasizing the powerful aspects of the Summer of Service Program. You can watch it at the following link.
To view a video that our prodigies put together to highlight the Summer of Service excursion, please visit the following link.
If you are interested in enrolling your child in this program, please contact the Youth Program Director at jchildress@stfranciscenter.org or 410-669-2612.