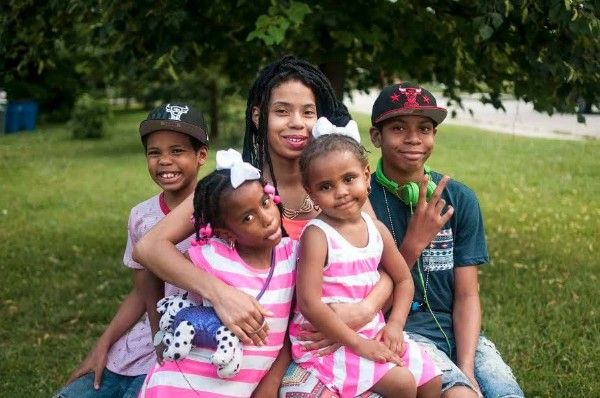 Community Programs and Referrals 
Community Computer Lab
The Computer Lab serves all age groups (youth through the elderly)  in an effort to simultaneously build community connections while delivering much need life-skills training. Contact tgreen@stfranciscenter.org for open lab hours. 
Community Yoga
Our resident yoga instructor holds free yoga classes several times a month on Wednesday nights that are free to the community. 6:30 pm - 8pm and Sunday mornings 9:30 am - 11am.
Adult Education
We regularly provide job readiness training, personal finance classes, guest speakers, and mentoring.  If we are currently not in session, we provide the resources for neighborhood residents to contact participating partners who can also help. 
Green Machine
Community clean up days, maintaining our green space, rain garden, or butterfly garden; growing vegetables and flowers in our raised garden beds, are just some of the activities we do.  Neighborhood residents work together to improve the community not only in an effort to beautify, but to increase community pride, solidarity, and work to curb violence and drugs.  Furthermore, the Green Machine aims to educate neighborhood residents and provide resources needed to create a healthy and sustainable environment within the community.
Narcotics Anonymous
This is operated by the NA branch of Baltimore City.  The Center provides space and resources to facilitate this program.  Meetings take place on Tuesday, Thursday and Saturday from 6 pm to 8 pm in the center.  They are confidential and are led by trained and committed volunteers who have completed the program themselves.  Participants are supported throughout this process in a safe and understanding environment free from judgment and prejudice.
Pot Luck and Stoop Nights
Currently St. Francis holds quarterly gatherings that provide an opportunity for all residents to socialize.  On average, over 100 residents from all over the neighborhood come and break bread together.  Building a sense of community through food and drink is a tried and true method of nourishing the mind, body, and soul.
Corpus Christi Grocery Bag Program
Once a week on Mondays, Corpus Christi Catholic Church distributes groceries from the Center.  They provide residents the opportunity for a free bag of groceries.  Being a resident in Reservoir Hill/Penn North is required, and providing an ID. (9 am - 11 am)
Teen Leadership
Resident Dr. Denise Bailey-Jones meets in the Center monthly with neighborhood teens teaching leadership and character building skills.  They do activities, take field trips, participate in social justice activities in the City, and promote literacy.
Event Space Rental
The Center has rooms available for special events to rent. Reservoir Hill/Penn North residents are offered a discount. Please contact tgreen@stfranciscenter.org for details.
Reservoir Hill Resource Fair and Music Festival
Reservoir Hill/Penn North residents have historically had limited access to education, healthcare and food resources due to the low numbers of medical practices, clinics, hospitals and food retailers in the neighborhood. The resource fair was created in 2006 to bring these much needed resources to the Reservoir Hill/Penn North neighborhood but over time has grown into so much more including live music, fun activities for kids, food trucks and local craft vendors. Today the fair brings thousands of Baltimore City residents, as well as Reservoir Hill/Penn North neighbors, together for a day of fun, music, food and celebration.  This is always held the first Saturday in August. Videos that emphasize the festival can be found at the following links.
https://www.youtube.com/watch?v=8v8_92UzAdE
https://www.youtube.com/watch?v=plXhNFckC_M
https://www.youtube.com/watch?v=ltDoaAPX5Hw
Service Referrals
We have an informative staff referring for various resources in the City. Call our Center at 410-669-2612 for support and assistance. Click here to view our calendar of upcoming events, classes, and more.