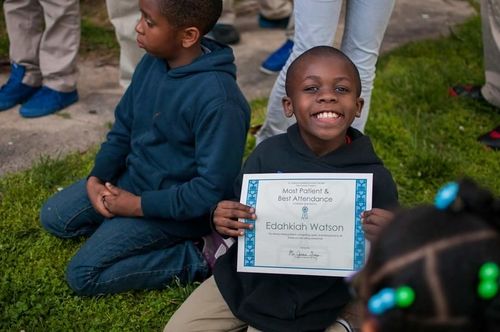 Edahkiah
Power Project
St. Francis Neighborhood Center (SFNC), in the Spring of 2009, established an after school youth development and family stability program called The Power Project.
The Power Project consists of five major components: education, mentoring, the arts, family and human services.  This program provides disadvantaged youth and families living below poverty in the Reservoir Hill neighborhood, ages 5 to 19, with the opportunity to receive academic enrichment, one-on-one tutoring, attend educational seminars and workshops, participate in our dance, art and music groups, and establish valuable relationships with caring and responsible individuals who will serve as positive role models in their lives.
The after school program is at no cost to youth and families and is held at the Center Monday through Thursday from 3:00 to 6:15 pm during the school year with snacks and dinner provided. The program can accommodate on average, 75 children at a time. 
The Power Project is getting some nice results. This is based on the children's grades, assessments, behavior, and our External Evaluation results.
SFNC administers an in house academic at the beginning and end of each school year or summer program that measures their ELA and Math skills. These assessments are in line with Baltimore City Public Schools curriculum (K-12). 
Our goals are to improve report card grades, behavior, and have consistent attendance. Each child creates a Power Plan with their family. This is their career path for the future. We even have a family meeting to discuss in their home, and provide a caseworker to assist with resources and services needed to promote family stability. 
Parents/Guardians
We have monthly workshops/family engagement nights which included dinner and an educational speaker.  In a recent survey, 100% of parents/caregivers agreed that the Power Project is helping their child.
Income/Government Support/Family Survey (taken upon enrollment)
100% of all children in the program are living below poverty.
76% with 4 persons in the household have an income of less than $20k per year.
100% of the students attend Title 1 Schools
35% recently experienced or are homeless
75% of our students have trauma related to poverty and/or a behavioral or intellectual disability (ADHD, ADD, IEP, 504 Plan, etc.)
Edahkiah's Story
At St. Francis Neighborhood Center (SFNC), learning disabilities are the norm for our students. Over half of the students enrolled have trauma related to poverty, an IEP or 504 Plan, are diagnosed with ADHD, or have a specific learning or intellectual disability. Many of our children do not have access to regular, balanced meals. In a typical day, children may arrive hungry, so we provide a snack during homework time and dinner. These challenges require staff to be patient, caring, and find creative ways to engage each child in a specific way that is meaningful for their progress. 
For example, when Edahkiah first started with us, he was unable to interact verbally, or complete homework independently. With close, long-standing positive connections to family and his teachers at the Center, he was able to overcome severe communications challenges and improve his retention and math skills using math games in the computer lab.
His two brothers also attend the Center which gives him another layer of support. His Mom, Ms. Everel, has now joined the Board of Directors for the Center. Staff and volunteers consciously encourage him to speak for himself. With the care and support of his family, and that of the Center staff, we have watched Edahkiah grow more self-aware, confident, and expressive. Now he reads aloud, volunteers to run our community youth-led meetings at dinner, and is able to work independently and confidently on his homework. In fact, Edahkiah was able to stand in front of over 200 people to share what he wants to be when he grows up! 
While Edahkiah is immersed at SFNC program activities, he is also being taught active listening, leadership skills, character and emotional development, and nonviolent communication. In the later afternoon he attends one of several group enrichment classes focused on nutrition, education, self-esteem, fitness, the arts, and personal hygiene. 
Edahkiah continue to develop his Power Plan, and individualized plan of action with various short and long term goals. He says that he wants to follow in the footsteps of his mentor and become an attorney. He also loves vehicles and wants to own a transportation company. Eventually, he will share his ideas in a meeting with SFNC staff--and, also with his family during a home visit--his academic and social goals for reaching his Power Goal, an ultimate life goal. 
100% of students have high school graduation as part of their Power Plan and 100% to date have graduated. 
If you are interested in enrolling your child in this program, please contact the Youth Program Manager, jessica@stfranciscenter.org or call 410-669-2612.