Upcoming Events
ResFest 2022 - Resource Fair and Music Festival 
We are BEYOND excited to invite the West Baltimore community of 21217 and beyond to join us for the 17th Annual Reservoir Hill Resource Fair and Music Festival on Saturday, August 6, in German Park, located beside SFNC! Although we have continued the festival through the pandemic virtually for the past 2 years, we are ready to bring out the entire community for a day of fun, music, resources, and collaboration! We will have a range of local musical talent, spoken word artists, over 50 resource vendors, teen and community vendors, local Baltimore cuisine and so much more! We hope to invite ALL of our friends, family, and neighbors out to celebrate the beautiful city of Baltimore and all it has to offer! ResFest 2022 will be held rain or shine and entry is, as always, FREE!
Stay tuned for more details to come. We hope to see you there!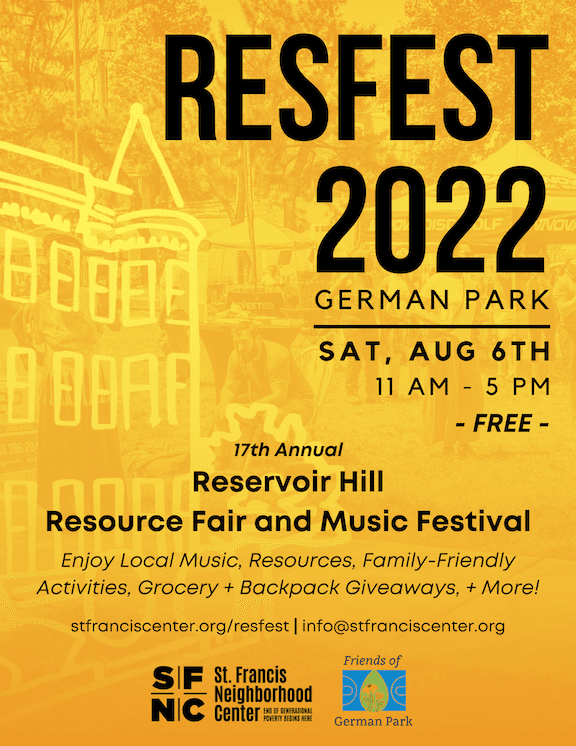 2nd Annual Golf Invitational and After Par-Tee
This fundraiser will support St. Francis Neighborhood Center to build a transformational adjustable space that can accommodate larger activities and gatherings such as yoga, exercise, safety classes; or, become an indoor play area, recreation space, or separated into small group spaces. We are also adding on two more classrooms which will move us from 75 to 200 children to be served. Youth have waited 3 years to attend Center programming due to lack of safe space. Now, we can make it happen!
For more information reach out to Info@stfranciscenter.org 
Tickets and Sponsorship Opportunities
---
---