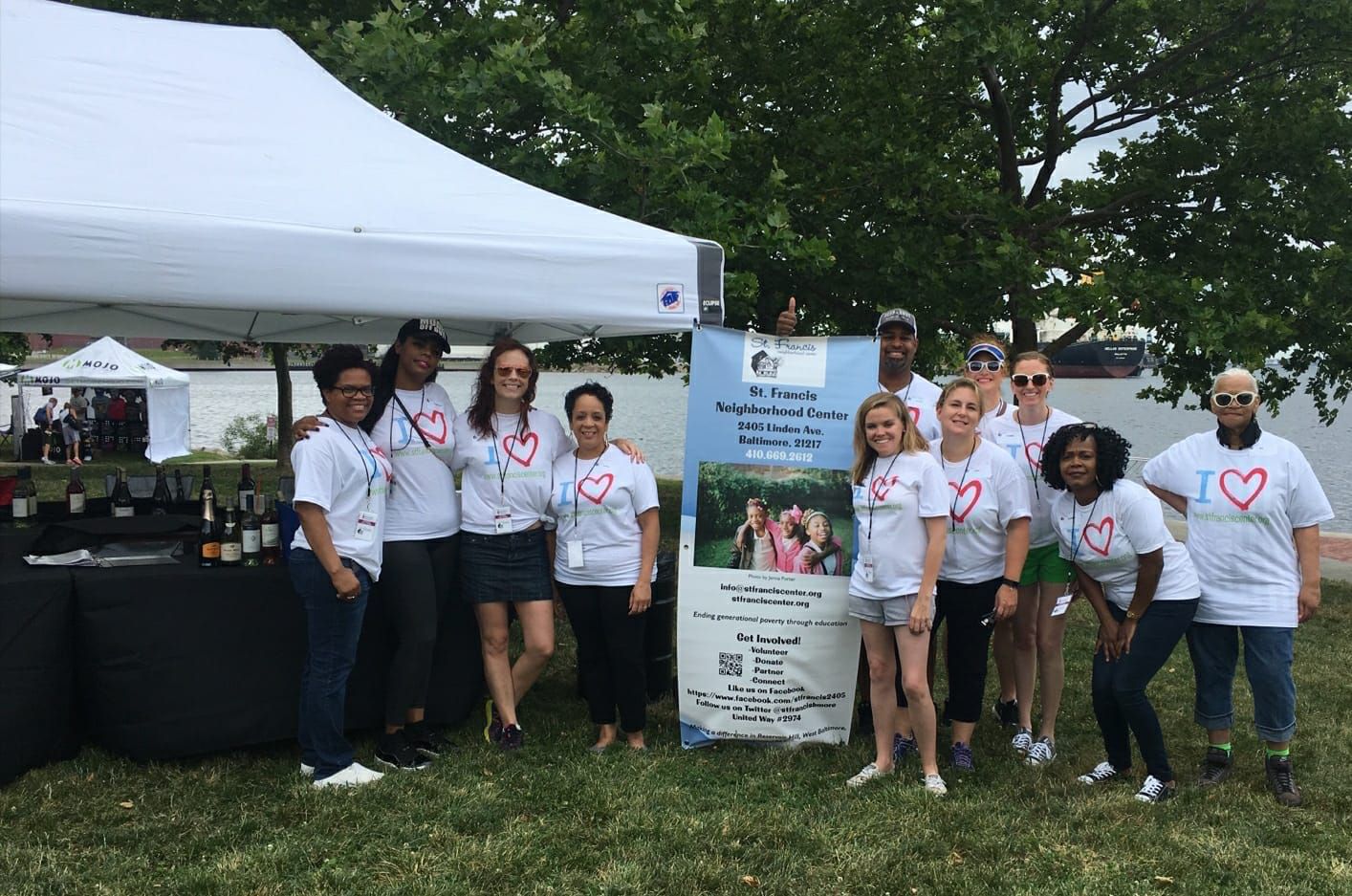 GIVE IN-KIND
St. Francis Neighborhood Center depends on the generosity of our in-kind donors to provide our essential programs and services. Volunteer corporate teams often make a day of giving back and will also donate supplies for activities they are leading. Some groups & individuals often donate professional services for our staff, community, youth, and families.
Dozens of organizations and hundreds of individuals contribute snacks and food to accompany our food program through the Family League. Monthly, we host a family night and we are always looking for a main course for 75-100 people to be donated. With special events throughout the year, we are often looking for catering services, beverages, and appetizers to reduce our costs and allow as much funding as possible to remain directed towards our programming.
Groups help to collect hygiene items, school uniforms, and school supplies for back packs in the fall, and year round. There are a variety of ways for individuals, families, and organizations to give in-kind to the Center. We'll seek out YOUR interests and combine them with our needs!
THE CENTER HAS A NEED FOR THE FOLLOWING ITEMS YEAR-ROUND:
For the Power Buck Store:  Our youth have an incentive store where, with good behavior, report cards, positivity, and kindness, they get to shop! This includes games, sports equipment, gift cards, and more. Program supplies such as school supplies, toilet paper, cleaners, garbage bags, and basics are also needed. See our Amazon wish list for ideas and to purchase. It ships directly to the Center's Executive Director.
For our day programs and daily operations:
  -Snacks, drinks
  -School supplies
  -Hygiene items such as Hotel Size Toiletries (especially deodorant); toothpaste and toothbrushes
FOR THE HOLIDAYS:
There are several ways you can donate in-kind during the holidays to give the gift of hope to hundreds of families struggling to make ends meet. The Center has a need for the following items.
EASTER, THANKSGIVING AND HOLIDAY FOOD BAGS
Non-perishable food items including: Gravy, stuffing, canned vegetables (corn, green beans), white potatoes (canned or instant), canned yams, cranberry sauce, brownie mix, pancake mix, pancake syrup.
HOLIDAY ITEMS FOR CHILDREN & ADULTS:
Children (4-12 years): Sports equipment (basketballs, footballs, etc.); DVDs; diverse dolls (African American, Caucasian, Latina, etc.), including B.R.A.T.Z., Barbie, and baby dolls; jewelry; Nerf products; action figures; LEGGOS; Transformers; art supplies; Match Box cars, trucks, etc.; dinosaurs; puzzles: hats, gloves, scarves, socks and new coats.
Children (13-17 years): Sports equipment (basketballs, footballs); $20 gift cards (Wal-Mart, Target, iTunes, Best Buy); MP3 Players; DVDs; scented bath sets; perfume; lotion; jewelry; cosmetic cases; flavored lip gloss; hats, gloves, and scarves; arts and craft supplies; boots, jeans, and sweatshirts (hoodies), socks and new coats.
Adults (Men & Women): Full sized toiletry items (shampoo, soap, toothpaste, toothbrush, lotion, razor, shaving cream), grocery/store gift cards.
To schedule a drop off of donations please email info@stfranciscenter.org
ITEMS WE CANNOT RECEIVE:
Due to lack of space, we cannot take clothing or furniture. For community partners that do take these items, please consider the following options:
Paul's Place:https://paulsplaceoutreach.org/
Goodwill: http://www.goodwillches.org/donate/items-we-accept/?gclid=EAIaIQobChMI45K1gJbh1AIVh4WzCh2eQwLwEAAYAiAAEgK9DfD_BwE